Two Tornado Warnings in effect currently across southern Alabama, this is in an enhanced threat area for tornadoes this morning and afternoon. A second round of storms will fire up along the I-35 corridor in Oklahoma this afternoon. Large hail will be the main threat. Some storms could produce hail as large as golfballs. Also I am not ruling out an isolated tornado in east central Oklahoma...
My target: Okmulgee, OK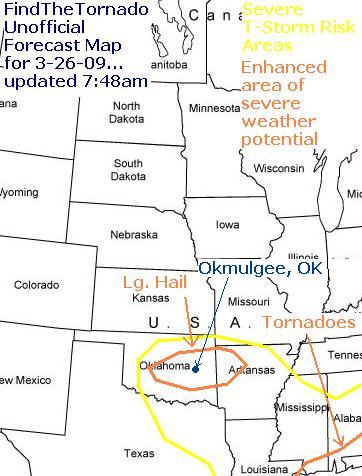 Feeling pretty good about my Okmulgee target as storms blew through there area and looked fairly nicely. Also would have had time to relocated to the dry line that is near I-35 now...
Anyway, severe storm, supercell along the TX/OK border is looking very nice!
..A SEVERE THUNDERSTORM WARNING REMAINS IN EFFECT UNTIL 715 PM CDT
FOR NORTHERN MONTAGUE COUNTY...
AT 636 PM CDT...NATIONAL WEATHER SERVICE METEOROLOGISTS DETECTED A
SEVERE THUNDERSTORM CAPABLE OF PRODUCING GOLF BALL SIZE HAIL...AND
DAMAGING WINDS IN EXCESS OF 60 MPH. THIS STORM WAS LOCATED 5 MILES
WEST OF NOCONA...MOVING NORTHEAST AT 15 MPH.
THE SEVERE THUNDERSTORM WILL BE NEAR...
NOCONA BY 645 PM CDT...
SPANISH FORT BY 705 PM CDT...
This storm is moving very slow and looks impressive on some of the live chaser cams out there!